My son always made fun of the movie "Sixth Sense". He would look at me and say "Mommy I see dead people", then break out in his little giggle. I always thought that was funny, seeing as how I CAN see and hear others who have passed, but I would just laugh with him and say " I see them too. But you better stop saying that!"
Well low and behold the Law of Attraction is at work. For about 2 years now I have noticed my son being more interested in what I do and telling me about weird experiences he was having. I knew what was going on but waited for him to come to terms and be more comfortable with his new found ability, and that happened this week. I was so happy and proud! Well, I am a mom first ya know!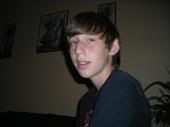 It all started with a phone call a couple of days ago. He and I have our normal evening talks on the phone since he lives in Jacksonville, Fl. with his Dad. We talk almost every night and he tells me about his day, nothing riveting usually. But the other night, he began to tell me about a patch of fog he had seen that morning. He was on his way to school, and from out of nowhere there was this fog. He said it wasn't large but as soon as it was there, it was gone again. He had a funny feeling about it, so he asked me to see what I felt. I told him I saw many people but 2 stood out, one was a gentleman in a Civil War out fit and the other was a lady with red hair and a red dress, looked like she was from the WWII days. We talked about it for a little while then got onto other subjects. These kinds of things are common place for us to talk about, the kids have grown up around strange happenings and things. All was well, or so I thought!