The Ab Wheel (sometimes called Ab Roller) is definitely in the class of 'simple and effective' abdominal exercise equipment. What's more, it's nice and compact – if you've got enough room in your house for a couple of loaves of bread, you'll be able to accommodate an Ab Wheel. This one really will fit under the bed.
What is an Ab Wheel?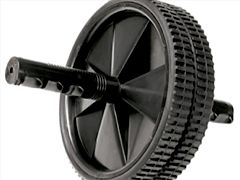 The Ab Wheel (pictured) is really little more than a stick poking through a wheel. This concept has been around for decades, and hasn't changed much over the years. In fact, the one I use here is probably 30 years old.
How is it used?
This is where the fun begins. Regardless of your current state of fitness, there's an abdominal exercise here for you to try.
[Read more…]